The company´s
profile
: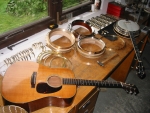 I clearly remember the exact moment when I was captivated by the thrilling sound of five string banjo many years ago - it was when I heard the song Foggy Mountain Breakdown from the movie Bonnie and Clyde. Since starting to play it in 1968 I have not been able to let go of this bewitching musical instrument. The banjo became a part of my life and I made various changes as my experience grew. My first banjo was a four string Marma from East Germany which didn't have tone ring. I modified it as much as possible to resemble the five string banjo that my biggest idol Earl Scruggs played. This was probably, subconsciously, responsible for the beginning of my present profession.
I played banjo for many years with Cop from Pilsen, Newyjou from Prague and Modrotisk from South Bohemia and whoever I was playing with, I was always focusing on the importance of good sound quality. It was my good fortune to be able to link my craft (which is metalworking), with practical banjo playing, that helped me to know what I could expect from the instrument, but also how to maximise its potential. I wasn't satisfied with just playing. I kept searching for information about materials and banjo construction methods. I tried to keep up with developmental trends and wanted to learn everything possible about the history of banjo production. When I recall some of my past experiments and mistakes I can now laugh at my naivety, however, this period of learning was all important for developing my knowledge, as anyone with similar experience would agree.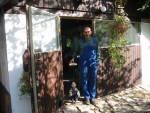 The most significant change came in 1990 when I totally devoted my work to the production of metal parts for the banjo. At the same time, I discovered that it is the design of the parts and the quality of materials that produce the finest excellence of sound. I already understood that sound is influenced by many factors, such as correct casting and machining. A big impact on my work came from a get-together with leading world banjo players Tony Trishka and Bill Keith shortly after the Velvet Revolution (1989), who enthusiastically endorsed my theory.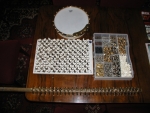 Another important landmark was my first journey to the USA to the IBMA exhibition in Nashville, where I presented my first, personally designed tone ring and tension hoop. Much to my surprise, I sold them both, which of course made me very proud. This is when my association with American customers began. Today I supply my products to many American banjo makers and my range has increased to include capos and tuning pegs. I still regularly go to the USA and I am honoured to be considered as one of the accepted regular suppliers by banjo manufacturers in America.
My banjo parts are also used by Jaroslav Průcha whose instruments are well known for their first quality make and sound. Prucha banjos are played by many prominent banjo players all over the world. We have been cooperating for almost 20 years and we also present our products at exhibitions abroad together. I also supply Rostislav Čapek, a renowned banjo maker, with my banjo parts. Among others he takes parts for 8" Uke banjo from me.
I believe in the highest quality of hand crafted workmanship, and in working with the finest grade materials, as found in the brass and bronze that I use exclusively. These principles have guided me very successfully so far.
Back to top and switch to czech:
Copyright © Ptacek Handmade, All rights reserved | Design by Šiškin & Code by Plha | Webhosting & Support by DaLuNET